US Embassy in Ankara, Turkey related to the topic Visa Application Process and Services. Overview.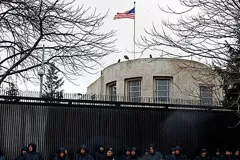 When your case number appears here: http://www.usemb-ankara.org.tr/consular/english/immigrant_admin_processing.html You must appear in person with your passport, refusal sheet (OF-194) and the missing items, if any, at the U.S. Embassy, Consular Section in Ankara, on any Monday through Thursday between 13:00 and 13:30, before the expiration date of the administrative process.
While most administrative procedures occur prior to the final immigrant visa interview, in some instances additional processing may be required after the interview.
The date next to your case number is not a new appointment date. It is the expiration date of your administrative process.