TN Visa Employer Requirements
To qualify as a professional under NAFTA you must meet the following basic TN Visa requirements:
You are a Canadian, Mexican or U.S. citizen
The job qualifies under NAFTA as listed in NAFTA Appendix 1603.D (NAFTA Job List)
You are qualified to work in this business activity
You have been offered a job by a U.S., Canadian, or Mexican employer
Your intention to stay is temporary in nature.
Full time jobs do qualify for the TN Visa. To ensure you successfully obtain the TN Visa for this type of job, you must write your TN Visa Employer Letter correctly and know how to answer the Immigration Officer's questions. This is explained in detail in the TN Visa Expert Application Kit.
Watch Video – Is the TN Visa Difficult to Obtain?
Unsure if you Qualify? Email us
If you have questions about your situation email us at support@tnvisaexpert.com
TN Visa Documentation Requirement At The Border
Be Prepared! As a result of increased security concerns, U.S. Immigration Officials at the border have been directed to conduct more thorough inspections. You must ensure you have the necessary documentation to establish your identity and purpose of entry and prove that you are eligible for a TN Visa.
This is the basic documentation requirement you must have:
Proof of citizenship (Canadian, Mexican or U.S)
Letter from your prospective employer
Job Title and detailed summary of your duties (job description)
Proof employment will be temporary; no more than 3 years
Arrangement of payment for your services
Proof you possess the required NAFTA Occupation credentials
Filing fee – $50 USD (price at the time of this publication)
Form I94 fee – $6 USD (price at the time of this publication)
Additional documentation may be required at the border for certain occupations. The TN Visa Expert Kit provides specific details for these highly scrutinized occupations. It is always better to be over prepared than under prepared. Showing additional supporting documentation shows the Immigration Officer that you're prepared, knowledgeable and can prove that you qualify.
You Can Be Working in the U.S. Within A Week.
Our proven techniques, step by step instructions and the border preparation will enable you to obtain your TN Visa within a week.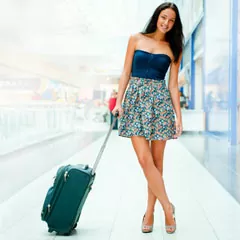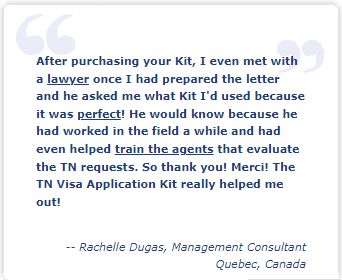 After purchasing your Kit, I even met with a lawyer once I had prepared the letter and he asked me what Kit I'd used because it was perfect! He would know because he had worked in the field a while and had even helped train the agents that evaluate the TN requests. So thank you! Merci! The TN Visa Application Kit really helped me out!
Remember, even if you have a valid TN Visa Application, you can be denied if you are not prepared for the border interview. The Immigration Officer's primary concern is to keep his country safe. If he has any reason to doubt your answers or your application, you WILL BE DENIED.
Created By Lawyers, Used By Lawyers
The TN Visa Application Kit has been created by lawyers so it's accurate and precise.
Moreover, lawyers are purchasing this Kit to use for their clients.
The TN Visa Kit has all the information you require to quickly and easily create a valid TN Application. It prepares you for the border interview, it provides sample TN Visa letters, step by step instructions and more.
Our 100% Money Back Guarantee
Customer satisfaction is our first priority. We are confident in the effectiveness of the products we offer. If you purchase the TN Visa Expert Kit and are denied your TN Visa, contact us and we will gladly refund your money.
The TN Visa Expert Kit will help you understand all the details of creating a successful TN Visa Application, mistakes to avoid and prepares you for the border interview.
Are You Ready Apply by Mail or at the Border?
You can read about the complete TN Visa Application process here.
Recent TN Visa changes now allows you to apply via mail or at a border crossing in person. If you apply by mail, it can take 2 to 3 months for processing and there is a several hundred dollar application fee. At the border you will obtain the TN Visa immediately and the fee is a lot less.