Success Stories
These stories are provided for your convenience so you can learn how to easily and affordably obtain your TN Visa. We want to extend our sincere appreciation to these individuals for taking the time to share their story in the hopes that it will help you.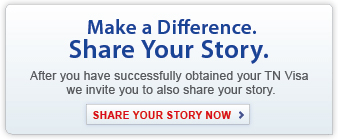 ---
"successful and obviously very happy"
"My son Sean was successful in attaining his TN Visa. Overall the service of TN Visa Expert was excellent. Sean took advantage of the Lawyer Network and it was reassuring to know that the lawyer review of his job description and university credentials indicated he would certainly fit the Technical Publications Writer category.
Sean also chose to go through Toronto rather than Calgary, based on your recommendation, as outlined in the ranking of Ports of Entry. Had he had more time I would have suggested he use the full lawyer review and consultation as well.
In Sean's words he was "grilled for over an hour" mostly questioning whether his job offer really fit the category. In the end he was successful and obviously very happy.
Thanks for your service!"
— Lorie Garritty / Sean Garritty
Technical Publications Writer
Calgary, Alberta
---
"…definitely worth the cost…"
"I was at the border yesterday (Pearson Airport, terminal 3) and got my TN status approved in around 20 minutes. I have had the TN status quite a few times but this is the first time that I was not asked even one question. Of course it's impossible to know if it was the format of the letter that made the difference, but I believe the format of the letter at least contributed to the ease of acceptance.
It was definitely worth the cost to get some suggestions and ideas for how to format the employer letter. Thank you."
— Dave Cross
Accountant
Odessa, Florida
---
"The entire process was easy and smooth, thanks to the preparation of this kit! Now I get to follow my dreams…"
"I just wanted to write you a quick note to say Thank You!
I purchased your kit recently, and applied Wednesday morning for my TN Visa at the Calgary Airport. Everything went very smoothly! I arrived at the airport at 5:00am for my 7:00am flight. After waiting in line to reach the Immigration Officials, I told the Officer that I wanted to apply for my TN status. He took me off to a back room and asked me to wait in a small waiting room with a couple of other people.
After waiting for about 25 minutes, an officer called me up to the counter and asked me for my paperwork. Thank God I bought your kit, I felt 100% confident that I had everything in order. I packaged everything very neatly in a portfolio fashion, and made sure to be dressed in a suit. They Officer told me to go sit down…after only about 5 minutes, she called me back up. Asked me for $50 USD and stapled the Multiple Entry TN Visa into my passport!
Thank you for preparing such a great kit. I actually purchased a different kit before I bought yours but it just was not very comprehensive. I appreciated that yours really was step by step. And providing examples of the Employment letters really helped my Employer and I create the most effective letter! It was the best money I've ever spent and I would highly recommend that anyone going through this process on their own like I was, should buy this kit!
The entire process was easy and smooth, thanks to the preparation of this kit! Now I get to follow my dreams working in Manhattan, NY! Thank you so much!"
— Lisa Prosser.
Technical Writer
Alberta,Canada
Share Your Story