US Embassy in Dakar, Senegal related to the topic Visa Application Process and Services. Overview.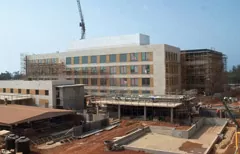 If you would like to live permanently in the U.S. you, you must obtain an immigrant visa (IV) – permission to seek entry into the U.S. as a Lawful Permanent Resident (LPR). The U.S. Embassy in Dakar processes IV applications for the following countries:
Guinea
Guinea Bissau
Mali
Mauritania
Senegal
The Gambia
Once USCIS approves your petition, you will be notified that the petition is being sent to the State Department's National Visa Center (NVC) or Kentucky Consular Center (KCC). NVC and KCC will assign the beneficiary a case number starting with DKR followed by the year (DKR2011123456).