US Embassy in Georgetown, Guyana related to the topic Visa Application Process and Services. Overview.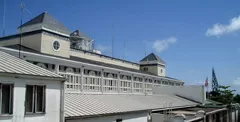 If it is determined at the end of your immigrant visa interview that you are fully documentarily qualified and otherwise eligible for the type of immigrant visa being applied for, the visa may be issued to you in two (2) working days. It is therefore important to have all required documents available on the date of appointment. Failure to provide all required documents on the date of appointment could significantly delay the processing of your case.
Immigrant and fiance (e) visas are normally valid for travel to the United States for six (6) months from the date on which they are issued. If your Medical Report and Police Clearance will expire before six months, the visa may be limited to the expiration date of those documents.