US Embassy in Jerusalem, Israel related to the topic Visa Application Process and Services. Overview.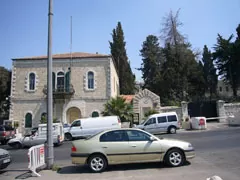 After you arrive for your interview, a member of our consular staff will prepare the case for review by a Consular Officer. If your documents are complete and no additional administrative processing is required, an immigrant visa will be issued within a week or two after your interview. This immigrant visa will be valid for six months, giving you time to arrange your affairs before traveling to the United States. The Consulate will send your passport with the immigrant visa and a packet of information by courier (Aramex for residents of East Jerusalem, West Bank, and Gaza, or Sha'al for residents of West Jerusalem and Israel). Do not open the packet of information; USCIS officials will open the packet at the port of entry into the United States. Please carry your x-ray with you to the United States.
If your case is missing required documents, the Consular Officer will provide you a refusal letter listing the documents that are necessary to complete your case. In most cases, applicants have one year to provide the missing documents. You can send any missing documents to the Consulate via a courier service, postal mail, or drop off at the reception desk in front of the Consular building.