US Embassy in Warsaw, Poland related to the topic Visa Application Process and Services. Overview.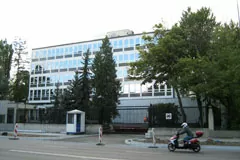 The Immigrant Visa Unit in Warsaw processes all categories of immigrant visas for residents of Poland and Belarus, and some of Diversity Visa Lottery cases from Ukraine (all DV-2012 lottery program cases that were originally scheduled by KCC to Warsaw).
Due to enhanced security regulations, visas cannot be issued on the day of the interview. All applicants, residents of Poland as well as non-residents, have to register online at www.ustraveldocs.com/pl and choose their visa TNT pick up location before coming to the Embassy for their immigrant visa interview. Please print out the confirmation page and bring it with you. You may also register and choose your TNT point of contact through the call center at +48 22 307 1361 in Poland or +1 (703) 988-7101 in the United States (Monday through Friday from 8:00 am to 3:00 pm EST).