What is USMCA or the New NAFTA 2.0 and what are the USMCA differences?
Answer: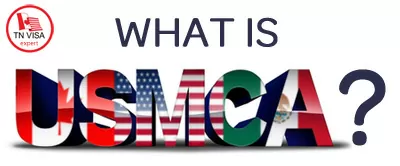 This is what USMCA Tn Visa stands for: United States Mexico Canada Agreement.
This is being called: "New NAFTA", "NAFTA 2.0" or what Donald Trump has named: "The United States–Mexico–Canada Agreement" (USMCA).
This trade agreement is a renegotiation of the original North American Free Trade (NAFTA) agreement between the U.S., Mexico and Canada in October 2018.
The NAFTA 2.0 or USMCA is new agreement which is still pending and requires approval by the U.S. Congress. Once approved by all three countries, it is expected to become effective in 2020. 
Common USMCA Questions:
Is the USMCA a historic transaction? No.
Does USMCA benefit Americans. Yes.
Does USMCA benefit Canadians and Americans. Yes.
What are the differences between NAFTA and USMCA?
Most of the original NAFTA agreement has remained the same. The new NAFTA 2.0 or USMCA is Donald Trump's attempt to make things better for Americans.
Here are some of the major differences:
Remember, we are giving you very high level view of these differences, you can read them in more details online.
Automobile requirements to qualify for zero tariff have been made stricter.
Canada dairy export to the US subject to limits and tariffs. US dairy makers get more access to Canadian dairy market.
Canada and Mexico cannot create trade deals with China without informing the US and the US can leave USMCA if a deal is struck.
Dispute settlement between companies and governments in Chapter 11 has been severely restricted. Investors are not able to sue governments over policy changes that affect future profits.
Currency manipulation is not allowed.
Intellectual property protection extended to 70 years after the life of the auther.
Digital content (music, ebooks, etc) not subjected to duties.
Internet companies are not liable for content their users produce.
Online cross border shipments to Canada worth less than $150 will not be subject to duties. The de minimus threshold has been raised from $20 to $40 for duties and taxes.
A sunset clause was added. Review the agreement every six years and a 16 year term for the agreement, with the potential to be extended.
Does USMCA affect the TN Visa Application Process?
First and foremost, you should know the TN Visa Requirements have not changed. Everything you need to do to obtain your TN Visa remains the same.
What has changed is the Border Officers are being more strict in their evaluation of your TN Visa Application and asking more questions. If you qualify and you use the TN Visa Expert Kit – Platinum Edition to prepare your application you will be fine.
Since Nov 2017 when Trump started negotiating the NAFTA / USCMA deal, we have had over 2000 applicants successfully obtain their TN Visa using the TN Visa Kit. So do not worry, follow the step by step instructions and read the border preparation chapter so you know what do do and what not to do and say. Also, study the border questions we have listed in the TN Visa Kit Platinum Edition so you can clearly answer the Border Officer's questions calmly and clearly to avoid raising any scrutiny.
If you are interested in getting started, we have a lot of helpful articles on this website to help you be successful.
Submitted by: Seb D. of Toronto, Ontario, Canada
More TN Visa Application Questions related to the topic Understanding USMCA and Differences from NAFTA