Overview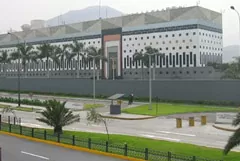 The National Visa Center will contact the petitioner and inform them of the scheduled appointment date and time for the beneficiary's interview. Please arrive no more than fifteen (15) minutes before your scheduled appointment time. Only visa applicants, the petitioner, a parent or legal guardian of child applicants, and those assisting the elderly or disabled will be allowed into the Embassy.
To enter the Embassy, all persons must go through a security screening. Please be advised that certain items are prohibited in the Embassy. Any person refusing to comply with the security process will be denied entry into the Embassy. Once you are inside the Embassy, you will be asked to wait until your name is called for the intake process. After you have completed the intake process, you will be interviewed by a Consular Officer.
If all the required documentation is in order and the interviewing officer determines that the applicant is qualified for an immigrant visa, they will be asked to register with the U.S. Visa Service to arrange for the return of your passport. If the Consular Officer is unable to complete the processing of your visa, you will be instructed on how to proceed with your case. Please be aware that some cases require additional administrative processing.