I have a TN Visa job interview next week, how should I prepare for it?
Answer: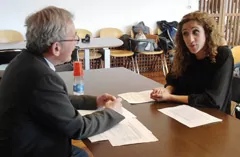 A TN Visa job interview requires more preparation than a normal job interview that doesn't require a
TN Visa.
Watch our TN Visa job interview video
(to learn the common job interview mistakes and how to avoid them.
Also, read the TN Visa Job interview article.

Finally, download the TN Visa Expert Kit. It contains additional job interviewing tips and strategies to help you successfully obtain a TN Visa job.

Submitted by: Kaleb S. of Montreal, Quebec
More TN Visa Employer Questions about How to Prepare for a Job Interview