US Embassy in Juarez, Mexico related to the topic Visa Application Process and Services. Overview.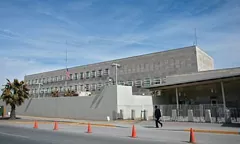 All K1 fiance visas, K3 spouse visas and CR1 visas for Mexican nationals are processed here. You will need to travel to Ciudad Juarez for your marriage visa interview.
While the Consulate strives to process all applicants within an hour of their appointment time, unforeseen circumstances may keep you in the Consulate longer. Additionally, it is sometimes necessary for applicants to have interviews over two or more days if there is a question concerning their application or they are missing documents.