US Embassy in Yerevan, Armenia related to the topic Visa Application Process and Services. Overview.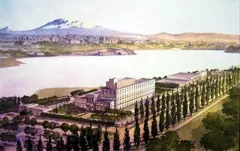 The Consular Section of the U.S. Embassy in Yerevan has been processing immigrant visas since February 2006 for residents of Armenia.
After the NVC has verified that your case is preliminarily complete, NVC will forward your case file to the Consular Section and send the petitioner, beneficiary, and legal representative (if applicable) a notice via regular mail stating when the applicant's visa interview will be at the Consular Section. This appointment letter should be brought to the visa interview.
Once your case has arrived in the Consular Section, it will remain at the Consular Section through the visa interview. For questions regarding your case while it is at the Consular Section, please email the Consular Section's Immigrant Visa Unit at IVYerevan@state.gov
Be sure to include your case number, full name and date of birth in all communications.
Do not send, fax, or email documents to the Immigrant Visa Unit. The Consular Section presently does not have the staffing resources to match incoming correspondence with prospective visa applicants. Required or missing documents should be sent directly to the applicant, who can then bring the documents to the Consular Section on the day of their interview.