When You Cross the Line, You'd Better Do it Right
Edmonton Journal Article Published Jan 11, 2008
EDMONTON — If you're travelling to temporary work in California don't sell your Canadian house, don't tell the immigration official that you hate Canadian winters and don't lose your temper if he treats you badly.
Assemble the right documents and even write a letter for your prospective employer to sign — which is not a bad idea, says Gulam Jamal. But he sells a kit to help you prepare everything yourself.

Jamal earned his computing science degree at the University of Alberta, then in 2000, was offered a temporary job in the U.S. and travelled there under Trade NAFTA status.
TN status was created within NAFTA in 1994 to let Canadians work temporarily in the United States in specified technical occupations. An average of 70,000 Canadians per year cross the border with TN status.
Jamal's American employer paid a lawyer to help arrange his TN status. But after he'd been through the initial experience, and one renewal, and friends asked him for advice, he created a do-it-yourself TN Visa Expert kit that he sells online for $79.
If you follow the instructions, and aren't admitted to the U. S., Jamal promises to refund your money — but says 99 per cent of customers have successfully obtained TN status.
"The biggest thing to understand is what the immigration officers look for," he says. They'll reject you if you don't qualify — but also have great discretion to reject you even if you do qualify.
"They want to protect their country," Jamal says. And they want to keep out people whom they believe intend to move permanently, not temporarily as the TN status allows.
Don't sell your Canadian property, he advises. Rather, show the immigration official that you still own Canadian property — because you plan to return.
"Don't say you love California weather and hate Canadian weather," Jamal says. "Because that won't change — and they'll think you want to stay there permanently."
And don't argue. Usually, "the officer is just trying to do his job, and may have had a long day talking to a lot of people," Jamal says.
Always tell the truth and, even then, if you're rejected at the border, go quietly — or it could get worse.
"If you say the wrong thing, or if they have any reason to doubt the information you have given them, you can be barred from the U. S. for up to five years," Jamal says.
The TN Visa Expert kit advises applicants to supply all documentation needed to prove the education, training, experience and licensing that may be required to prove their qualifications for the position to which they are travelling.
Applicants also must provide a letter from the prospective employer, which should define the position in the same language as the NAFTA job list of qualifying occupations. And it should specify that this is a temporary position for not more than one year.
The kit includes sample letters. A deluxe kit, for $99, includes a letter designed for the individual's specific occupation. Jamal advises that any sample letter should be customized by the user.
He promotes his kits through online advertising and recruitment agencies and sells them at www.tnvisaexpert.com.
Link to TN Visa Article in Edmonton Journal
---
TN Visa Expert helping San Diego Fire Evacuees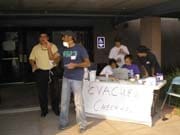 We here at TN Visa Expert helped with the evacuation effort at Carlsbad High School. Evacuees from the San Diego wildfires were arriving from various San Diego locations which were affected by the fires. The generous donations from the local community enabled these people to have food, clothing, shelter and everyday essentials as they await information about their homes. Carlsbad High School opened as a shelter with no assistance from federal or state agencies and helped more than 200 evacuees.
"People were coming in disoriented, crying and confused. They had lost their homes and had no idea what to do next. We could at least give them a safe place to begin the long journey ahead," said TN Visa Expert President Gulam Jamal.

TN Visa Expert provides valuable online immigration information for Canadians, Mexicans to work in the U.S. under NAFTA. A do it yourself TN Visa Application Kit enables TN applicants to successfully live and work in the U.S.