U.S. Embassy: Accra, Ghana
Overview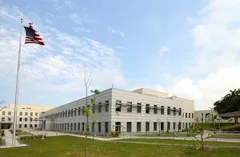 The best way to contact the Consular Section is via e-mail at IVDVACCRA@state.gov. Interviews are conducted by appointment only.
Embassy Contact Details
Email
consulateaccra@state.gov
Telephone
233-21-741-100
GMT Time
GMT +0hrs
Office Hours
Monday-Friday 8:30am-12:00pm
Address
No. 19 Fifth Link Road
Cantonments
Accra, Ghana
City
Accra
Country
Ghana
Website
https://gh.usembassy.gov/
Best Contact Method
Email
K1 Visa, K3 Visa and CR1 Visa Processing Details
This U.S. embassy processes K1 visas, K3 visas and CR1 visas.
This embassy has special K1 visa, K3 visa and CR1 visa procedures, email us if you need to know what these steps are.
If you have any questions about your situation, email us at: info@tnvisaexpert.com