Overview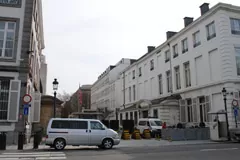 For the Visa Application Interview, all applicants in Brussels are to report for their interview at 2:00 pm on the appointment date.
Upon admission into the Consulate, your passport will be collected and your file will be reviewed by a consular employee. Then the consular officer will conduct the final interview, adjudicate your application and inform you of the result. If your visa is granted, your passport with your visa will be ready for pick-up a few days after your visa interview. The Consular Section will also prepare your sealed immigrant visa package. The Consular Officer will inform you when you can come back to the Consular Section to pick up your passport containing your immigrant visa, as well as your sealed immigrant visa package.
However, if the Consular Officer has to decide the visa cannot be approved for issuance, the reason for refusal can often be quickly eliminated. The Consular Officer will give you verbal and printed instructions on how to proceed.