US Embassy in London, United Kingdom related to the topic Visa Application Process and Services. Overview.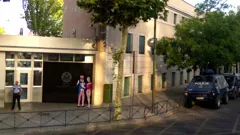 Starting February 1st, 2012 the Immigrant Visa Unit in the US Embassy Madrid will stop receiving IV inquires on walk-in basis.
For questions regarding Immigrant Visas, you may call 807 488 472 for general information or contact e-mail ivmadrid@state.gov for open cases.
Once approved by USCIS, the petition will be forwarded to the National Visa Center (NVC) in Portsmouth, NH. The National Visa Center will send information regarding the visa process to the benificiary. Once the case is completed, the National Visa Center will schedule the appointment to come to the Embassy for an interview and will send a notification to the applicant or his/her agent.
The petitioner is not required to attend the immigrant visa interview. Applicants must schedule their medical exam, and pay the medical fee (in Euros only) directly to the clinic.