Overview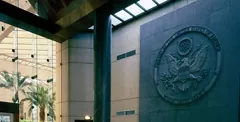 For cases filed in the United States: The National Visa Center (NVC) sends the appointment letter.
Once the beneficiary has received the appointment letter–and no sooner–he/she may proceed with the medical exam. Any other immigration services requiring appointments can be made by writing to RiyadhIV@state.gov.
Please note starting December 2011 NEW Immigration appointment hours are 12:30pm-2:30 pm.