US Embassy in Vienna, Austria related to the topic Visa Application Process and Services. Overview.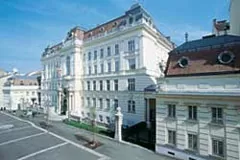 The Consular Immigrant Visa Section processes immigrant visas (for permanent residence) and fiance(e) visas.
Walk-in inquiries: Daily except Wednesdays
Telephone inquiries (Mondays – Fridays)
The Immigrant Visa Unit in Vienna, Austria processes immigrant visa, K and V visa cases for Austrian citizens and third country nationals permanently residing in Austria, as well as Iranian immigrant visa cases.
Processing of Iranian immigrant visa cases will be initiated only upon receipt of proof that the Iranian applicants are in possession of a valid Austrian visa which will allow them to either remain in or return to Austria for at least three months. The Iranian applicants must be able to independently secure the Austrian visa. This Embassy cannot intervene or get involved in that process. Proof of the valid Austrian visa has to be provided before an interview appointment can be scheduled.